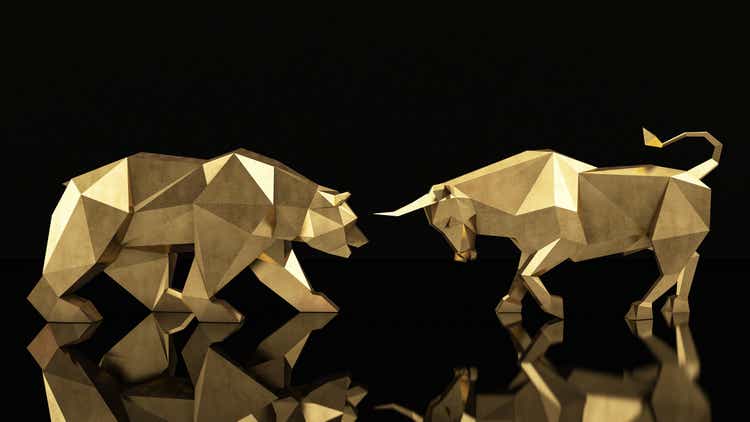 In the past six months, the Financial Select Sector SPDR ETF (NYSEARCA:XLF) declined 19%, about the same as the S&P 500's dip, as the highest inflation in four decades weighed on consumers and investors alike.
To put it in perspective, financial stocks didn't fare as poorly as consumer discretionary names — Consumer Discretionary Select Sector SPDR ETF (NYSEARCA:XLY) plunged 32% during in the first half of the year — or as well as energy stocks, the only sector in the green — the Energy Select Sector SPDR ETF (NYSEARCA:XLE) climbed 32%.

Looking at the financial stocks that rose the most in the first half of the year, insurance names figured prominently among the top 20 movers. Unum Group (NYSE:UNM) topped the list, rising 38%. Other insurance names in the W.R. Berkley (WRB), White Mountain Insurance (WTM), Progressive (PGR), Assurant (AIZ), and Allstate (ALL).
Takeovers: Two of the financial stock in the biggest climbers are companies being acquired: First Horizon (FHN), which made the fourth-biggest gain, is being bought by TD Bank Group (TD) for $13.4B. And Alleghany (Y), in sixth-place with a 24% jump, is being acquired by Warren Buffett's Berkshire Hathaway (BRK.B) (BRK.A) for $11.6B.
Fintech, mortgage slump: Fintech and mortgage names dominated financial stocks that fell the most in the first six months of 2022: Upstart Holdings (NASDAQ:UPST) fell the most in the first half of the year, declining a stunning 72%, followed by Singapore-based fintech and food delivery app Grab (GRAB) -64%, SoFi Technologies (SOFI) -64%, PayPal (PYPL) -63%, and Brazilian neobank Nu Holdings (NU) – 60%.
As the Federal Reserve raised its policy interest rate, the stocks of lenders fell, including UPST and mortgage names Rocket Companies (RKT) and UWM Holdings (UWMC).
Some wealth and asset management companies also saw major declines as equity markets swooned: Janus Henderson (JHG), Focus Financial (FOCS), T. Rowe Price (TROW), and Carlyle Group (CG).
For financial investing ideas, use the SA stock screener.
H1's biggest gainers

H1's biggest decliners

UNM

Unum Group

+38%

UPST

Upstart Holdings

-79%

FUTU

Futu Holdings

+37%

GRAB

Grab Holdings

-64%

BANF

BancFirst

+35%

SOFI

SoFi Technologies

-64%

FHN

First Horizon

+33%

PYPL

PayPal Holdings

-63%

WRB

W.R. Berkley

+25%

NU

Nu Holdings

-60%

Y

Alleghany

+24%

TRUP

Trupanion

-54%

WTM

White Mountain

+23%

CIXX

CI Financial

-49%

BCH

Banco de Chile

+16%

JHG

Janus Henderson

-45%

CVBF

CVB Financial

+16%

RKT

Rocket Companies

-45%

LU

Lufax Holding

+16%

SBNY

Signature Bank

-44.%

ITUB

Itau Unibanco

+15%

FOCS

Focus Financial Partners

-44%

LPLA

LPL Financial

+15%

TROW

T. Rowe Price

-43%

PGR

Progressive

+12%

SIVB

SVB Financial

-42%

AIZ

Assurant

+12%

CG

Carlyle Group

-42%

AGO

Assured Guaranty

+11%

PACW

PacWest Bancorp

-41%

THG

Hanover Group

+10%

UWMC

UWM Holdings

-41%

HSBC

HSBC

+8.1%

CS

Credit Suisse

-41%

ALL

Allstate

+7.4%

SYF

Synchrony Financial

-40%

TRV

Travelers

+7.4%

URE

ProShares Ultra Real Estate ETF

-38%

AFG

American Financial Group

+7.3%

MC

Moelis & Company

-38%